---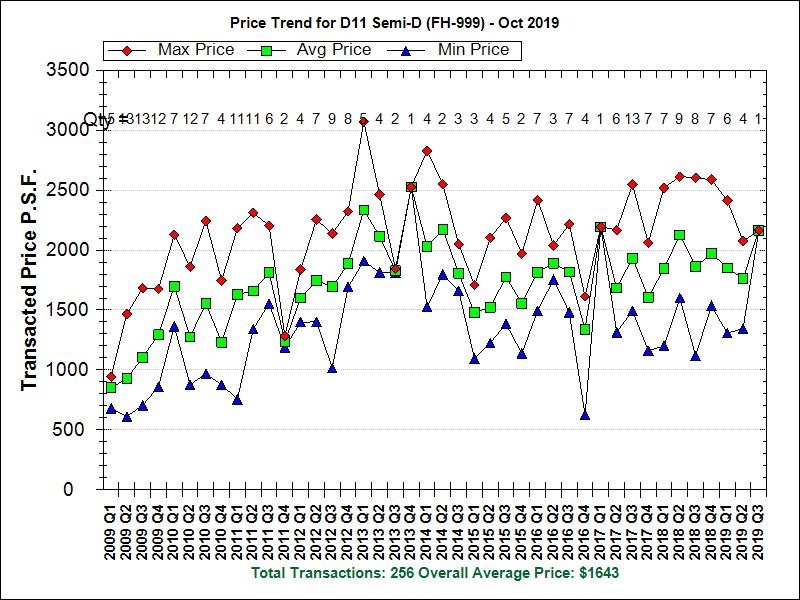 ** Latest PSF Prices for District 11 Semi-D**
It may come as a surprise but the psf price trend of Semi-Ds in District 11 hardly changed since 2011.
Given that there are economic growth in Singapore, add in salary increment and inflation, property prices must have risen. Right? Actually, not really. At least for District 11 semi-Ds.
Although the overall price trend of Singapore residential property broadly follows Singapore's economic growth and inflation. But pockets of residential properties do not. And some of them offer deep value and if you are looking at a time horizon of more than 5 years, District 11 semi-Ds is like an undiscovered gem.
Actually the area is very prime location in Singapore. It is not only surrounded by top schools such as SCGS, Raffles Girls Primary (RGPS), Nanyang Primary, Hwa Chong, National Junior College, Nanyang Girls High School, SJI, ACS Barker, etc., it is also located at the door-step of Botanic Garden, Raffles Town Club, it is served by 3 MRT stations (Stevens MRT, Botanic Garden MRT and Tan Kah Kee MRT), and a very short drive to town.
In addition, along the District 11 landed housing estate, government has plan to develop the new Sky Park, a 1.4km elevated stretch that runs from Rail Corridor to Elm Avenue. This is part of a bigger plan - the Bukit-Timah-Rochor Green Corridor, a linear park that lies between Bukit Timah and Dunearn Road that may be extended all the way to Kallang Riverside, totalling 11km.
Perhaps this is a good time to start looking for a house in District 11.
P.S:
The price curve includes only PSF prices for freehold/999-year landed semi-detached houses only. The original source data includes PSF price of cluster (or strata landed) houses, but we have remove these eroneous data points because it may skew the overall price trend depending the number of cluster houses being transacted in that month or quarter.