---
Yes. You have found your dream landed home. But before you put in the cheque, is there anything else that you should check before doing so?
Many home buyers have specific preferences relating to facing of house, land shape, house number, whether the front of house faces an oncoming road, or is it next to an electrical sub-station or religious building, etc. Some will prefer land on elevated plot while others like/do not like houses with a long drive-way.
But beyond these visible attributes, there is an important check that prudent landed buyers should do and many do not - and that is the RLP or Road Line Plan.
This article will share useful knowledge about the Road Line Plan (RLP) and relating to it, the Line of Road Reserve, the Land Required for Road Reserve, the Road Buffer and the Setbacks.
Road Line Plan is a document that anyone can purchase online, and it shows whether the land plot which you are contemplating to buy could be subjected to potential future road widening.
Important to know, even if the road widening did not happen, is that when such a land plot with a road line is redeveloped, the land required as Road Reserve shall be surrendered free of encumbrances to the State.
Would you agree this would be an important information to know before you put in the cheque?
Given the material significance of the RLP, it is surprising that the information is not readily available online and the topic is not adequately informed to would-be landed buyers.
As a matter of fact, many home sellers and their agents helping to market the property do not even know whether there is a Road Line affecting the property or not. As part of the conveyancing, some lawyers do carry out checks on RLP prior to completion of sale, but I would NOT say ALL lawyers do it.
The diagram below shows a sample of Road Line Plan. [https://www.lta.gov.sg/content/ltaweb/en/industry-matters/sale-of-plans-and-information/road-line-plan.html]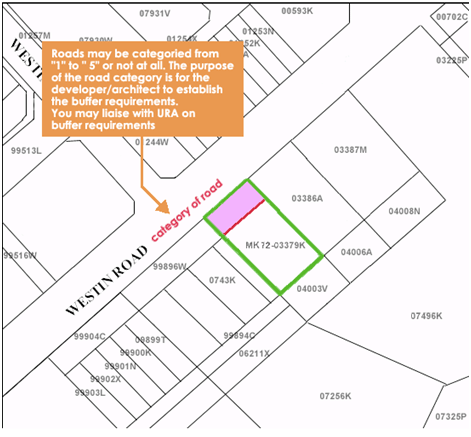 The main information shown on the Road Line Plan is:
Lines of Road Reserve (the continuous red lines)
Land Required as Road Reserve (the area coloured pink)
Road Names and Road Category
In the above sample, the Lines of Road Reserve cut the land lot MK72-03379K represented by the rectangular box in green border (P.S: the green border is for illustration only, on the actual RLP, there is no green border, just a black box with lot number). The Land Required for Road Reserve is shown by the pink-shaded portion between the red line and the plot boundary.
Lines of Road Reserve
Q: What are Lines of Road Reserve?
LTA's Reply: The Land Transport Authority safeguards land for road reserve to construct new roads or improve existing roads. Lines of Road Reserve are lines showing the extent of the future safeguarded roads.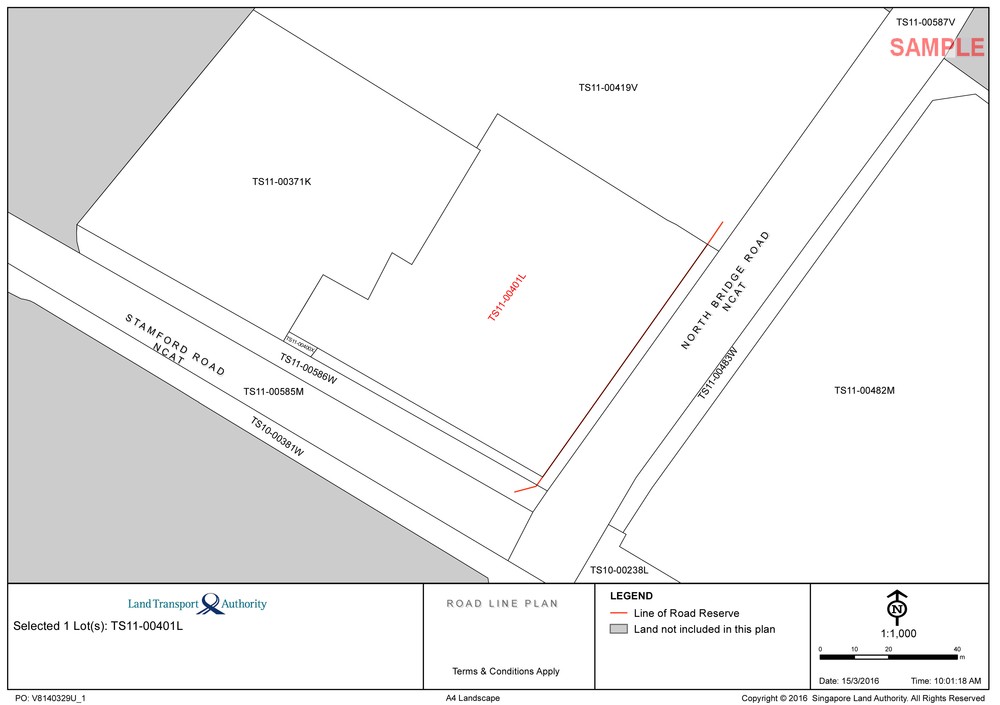 The above is another sample of Road Line Plan obtained from the LTA website. In this sample, we can see that the Line of Road Reserve (red line) does not cut the land plot.
Land Required for Road Reserve
Q: What are Land Required for Road Reserve?
LTA's Reply: The portions of land which are required as Road Reserve are coloured pink on the Road Line plan. These portions of land are to be set aside when development/redevelopment* takes place on the subject lots or when road construction/improvement is carried out by the Land Transport Authority (LTA), whichever is earlier.
*Development/Redevelopment includes reconstruction, new erection proposals and major Additions & Alterations to existing buildings.
There are two scenarios here:
a) If the landowner intends to develop/redevelop* his land, the land required as Road Reserve shall be surrendered free of encumbrances to the State. They however, can be used for density/plot ratio calculations purposes.
b) If the landowner has no intention to develop/redevelop* his land, the landowner need not take any immediate action. The government will acquire the land when it constructs or improves a road. At that time, any building protrusions into the road reserve will have to be removed by the landowner.
Refer to https://www.lta.gov.sg/content/dam/ltagov/industry_innovations/industry_matters/development_construction_resources/road_line_plan/pdf/Road_Line_Plan_FAQ_final.pdf, and https://www.lta.gov.sg/content/dam/ltagov/industry_innovations/industry_matters/development_construction_resources/road_line_plan/pdf/Road_line_Plan_Explanatory_notes_final.pdf.
Road Category
Putting it simply, the Category of a road tells you whether it is a major trunk road such as expressways, or main road linking in-between towns or connecting towns to the expressways. Or, it could be just a small road within a landed estate. The five categories are:
Category 1 Expressway – for long distance traffic movement
Category 2 Major Arterial – interconnects expressways, and between expressways and minor arterial / other major arterial
Category 3 Minor Arterial – carries through traffic between adjacent towns roads
Category 4 Primary Access – link up local accesses to arterial roads
Category 5 Local Access – give direct access to buildings and connect to primary access only
Road Buffer & Building Setback
To understand the importance of Road Category, you need to know what is Road Buffer and Building Setback.
Some people misunderstand road buffer to be same meaning as the Land Required for Road Reserve explained above. In fact, the two are very different.
In Singapore, all developments are required to provide a buffer between the road reserve line and the building.
** Exception applies such as residential development in The Central Area and within the River Valley Planning Area, Newton Planning Area and Orchard Planning Area. Please refer to BCA for more details.
Setback controls of buildings from public roads are determined by the road buffer only. The minimum buffer width or setback of building depends on the hierarchy of the category of the road the site fronts. For roads that are not categorised, the minimum road buffer (i.e. 7.5m for residential developments) applies. See Figure 5 below: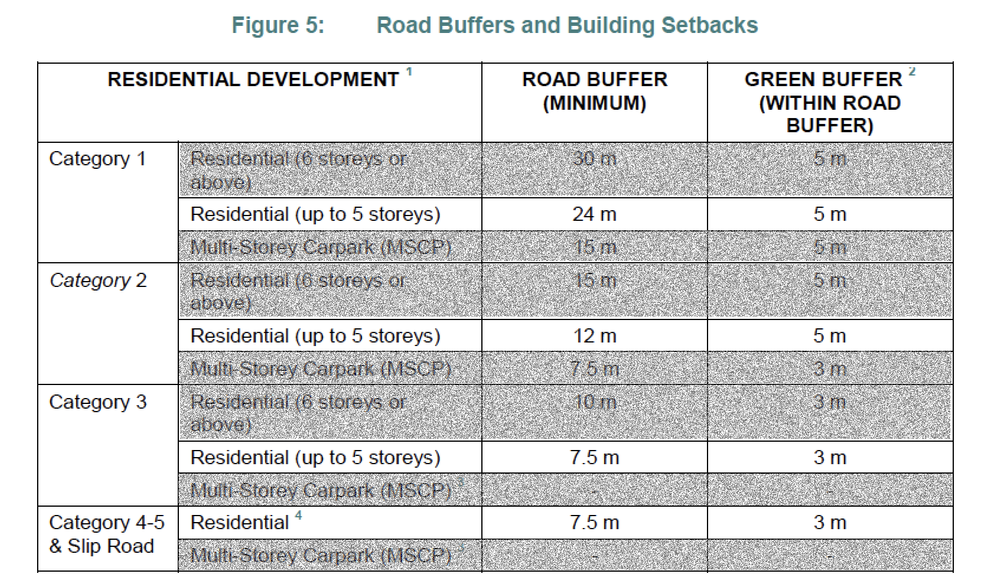 For landed housing developments bounded by public roads on more than one side, the boundary from which the vehicular access point is located is deemed to be the "front". (The front can be any part of the house and is not determined by its internal layout eg, it need not be where the living room opens out towards). The road buffer control at the "front" of the house varies with the category of roads (see Figure 5). For example, if vehicular access to a 3-storey house is taken from a Category 2 road, the buffer standard for the "front" of the house will be 12m.
For the other boundaries that are not the "front", the buffer standards stated in Figure 5 will still apply, except for houses facing a Category 5 road. Where they face a Category 5 road, the buffer standard is the same as the minimum boundary clearance requirements (see Figures 5b & 5c).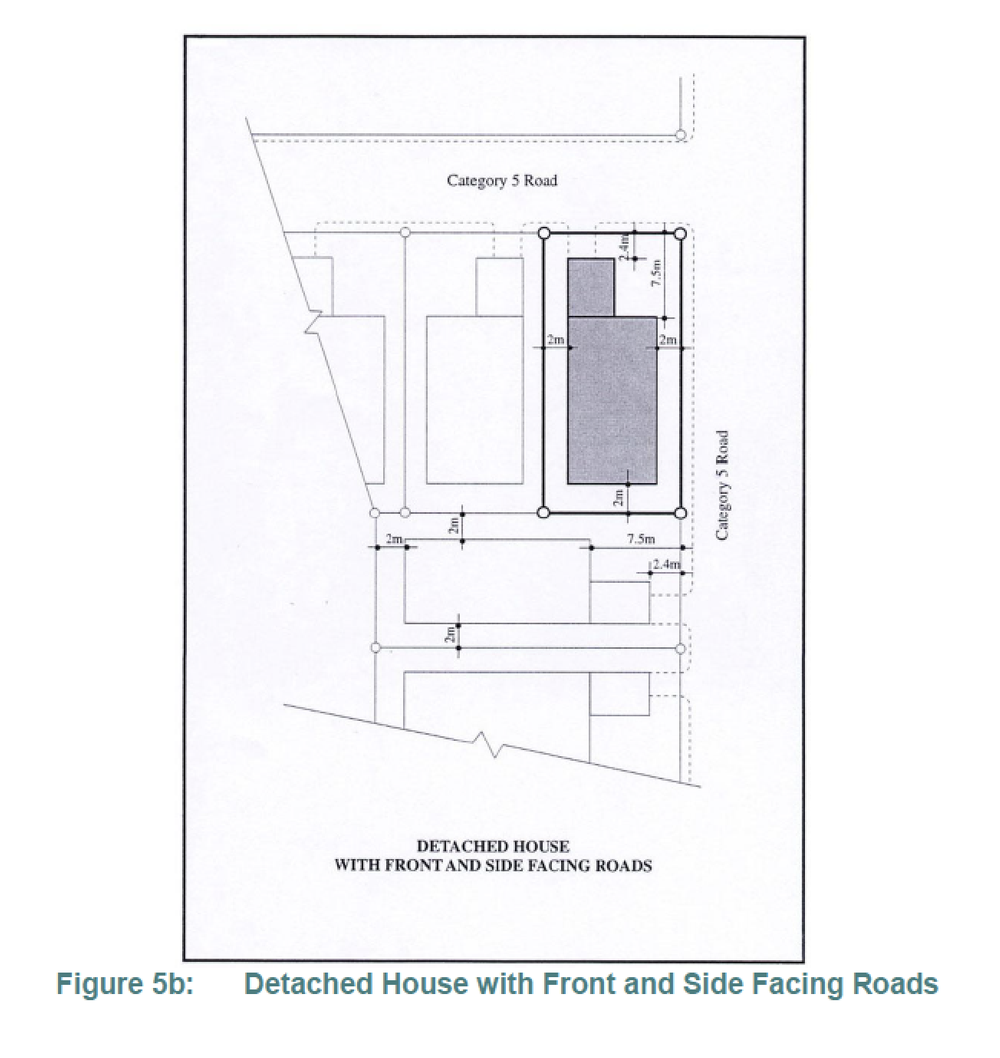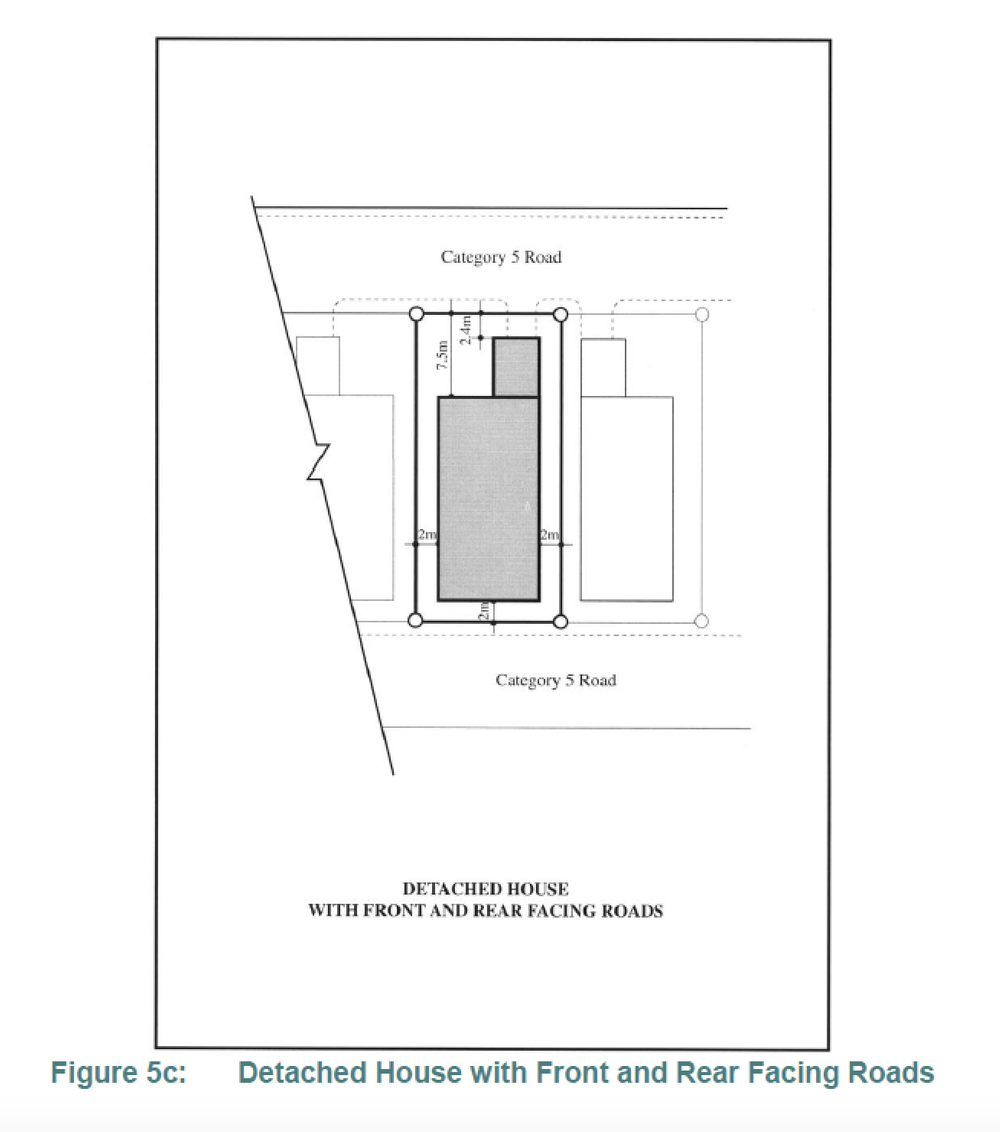 Q: What is the purpose of a Road Buffer?
A: The main intention of physical buffer and building setback guideline is to protect the occupiers of the building and adjacent buildings from visual intrusion, noise and other pollutants from the road. The guidelines will help to safeguard and enhance the environmental quality of the area in relation to streetscape or physical landscape, building size, and building density. [See Circular No : URA/PB/2003/16-DCD. Our Ref : DC 602/11-13. Date : 2 Jun 2003]
Q: Where will be landed properties affected by Road Line Plan be located?

A: In general, RLP affects houses that are located along major roads such as Sixth Avenue, Yio Chu Kang Road, etc. They are also often found at corner landed properties which are the first house after turning in from a Category 2 road. To be very safe, always check and never assume. In fact, RLP has been observed even when the house is not located along main road or at the corner of main road. An example would be Kang Chu Bin Road in the middle of Kovan Estate. Hence, always check.
Examples of road that are affected by RLP:
Wan Tho Avenue
Kang Chu Bin Road
Kovan Road
Sixth Avenue
Upper Serangoon Road
Duku Road
Q: Where will the landed properties affected by larger Road Buffer be located?
A: In general, Road Buffer at the front is 7.5m, while the set-backs at the side and back of house is 2m. However, due to Category of roads, sometimes the side and back of house can have set-back of 7.5m or 12m as well. This will lead to a reduction of building footprint and a corresponding smaller Gross Floor Area (GFA) and build-up area for the house that you can build on the plot of land.
Examples of land plots that have larger road buffer than the standard 7.5m/2m/2m for front/side/back:
Sixth Avenue - Cat 3
Upper Serangoon Road – Cat 2
Holland Road – Cat 2
Yio Chu Kang Road – Cat 2
Bartley Road – Cat 2
Bishan Street 11 – Cat 3
Q: How do I purchase the RLP to see if the property is affected by the road reserve or find out what is the Road Category of the adjacent road?
A: You can purchase RLP from www.sla.gov.sg/inlis. The cost is $53.50. Payment can be made via Interbank GIRO or via Credit Cards/Debit Card.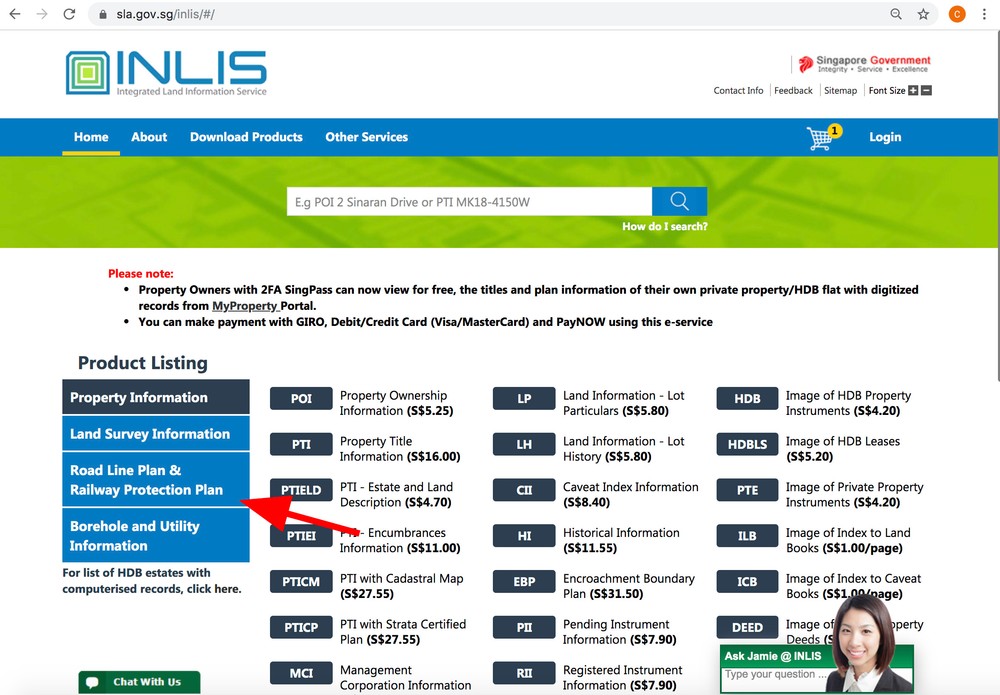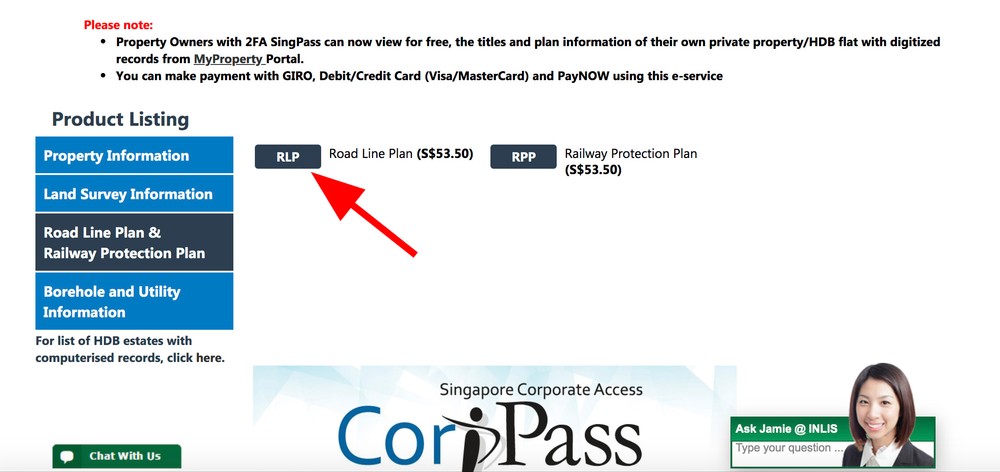 You may engage a registered surveyor to find out the exact areas and dimensions of the land required as road reserve. The registered surveyor can also check if the buildings on the land are affected, and if development works infringe on the road reserve.
Hope you find this article useful. Stay tuned. We will be adding a Case Study to illustrate the significance of RLP and Road Buffer on a residential landed plot for redevelopment.
This article is part of the Landed Knowledge series which we will be rolling out on a regular basis. Do share with your friends, whether by WhatsApp, Facebook or Email using the convenient link provided below. Hope it will benefit them as well.