---
List Sotheby's International Realty released a report on Singapore Landed Properties that included a clear illustrated breakdown of the different landed housing types in Singapore and where there are located. A link to the full report is provided at the end of this article.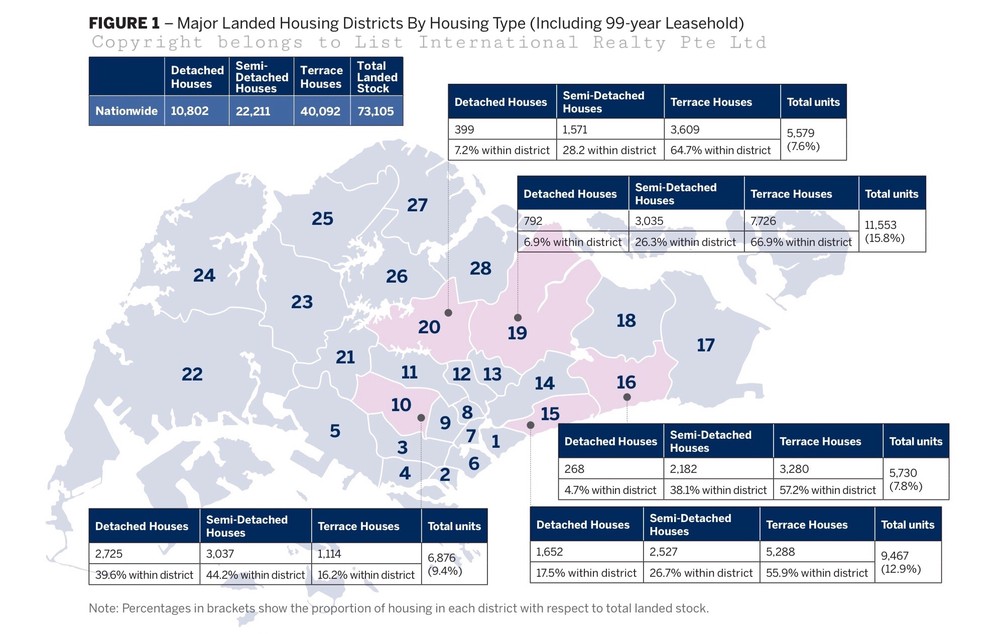 Landed properties comprises primarily the 99-year leasehold titles and the freehold/999-year leasehold titles. Land released under the government land sales programme (GLS) generally comes with 99-years lease tenure. The disparity in the tenure can sometimes lead to those properties with perpetual or almost perpetual ownership titles to command a premium against those with 99-year leasehold titles.
Besides the different duration of ownership, landed properties are also categorised into three broad types: Detached, Semi-Detached and Terrace Houses.
As of 2019 Q1, the Urban Redevelopment Authority (URA) reported that there are 73,105 private landed homes (all types of tenure) in Singapore. In contrast, there are 297,839 private non-landed homes and around 1.3 million public housing flats in Singapore. Landed housing made up barely 5% of all the housing available in Singapore, making them a scarce and valuable category of housing type.
Among the 73,105 private landed homes (all types of tenure) in Singapore, there are 10,482 Detached Houses, 22,211 Semi-Detached Houses and 40,092 Terrace Houses.
Though landed houses can be found at different parts of Singapore, most of the landed houses are located in the Central and North-East regions of the island. Some of the most luxurious landed homes can be found in Sentosa Cove. As of 2019 Q1, 53.5% of all the landed properties in Singapore are located in Districts 10, 15, 16, 19 and 20. Amongst them, District 19 has the highest number of landed homes, followed by Districts 15, 10, 16 and 20. Figure 1 shows the distribution of each type of housing in these five districts.
For the full report, please refer to this link:
https://www.listsothebysrealty.sg/eng/insights/2846/asset-for-wealth-preservation
.